"Rather than thinking, 'I'm right.' I started to ask myself 'How do I know I'm right?'" 

by Ray Dalio, Co-chairman/Chief Investment Officer at Bridgewater
Hi there!
It's Kan from Exploratory.
Thanks to those who came to our webinar last week. The session was recorded and uploaded here, check that out if you are interested in Exploratory v5.0.
We'll have another webinar next week, on Monday, Nov. 15th. I'll be introducing Time Series Forecasting with Prophet algorithm. Take a look at our online seminar page for more details.
Also, we have opened the enrollment for our next Data Science Booster training program in February. It's a bit too early, but if you're interested, make sure to sign up soon while there is an early bird discount!
Now, here's this week's update!
---
What We Are Reading
Systemized and computerized decision making - Link
Some algorithms can help us make better decisions because they help us gain a deep understanding of the world. But others like Machine Learning algorithms might not as well because they are not good at answering cause-and-effect questions, though they're super good at prediction.
When it comes to using algorithms for decision making for businesses, there is no better person to ask than Ray Dalio, a founder, Co-Chief Investment Officer & Co-Chairman of Bridgewater, the world largest hedge fund.
He talks about how algorithms have been helping him to make better decisions and also when they fall short.
Data-driven sales: 18 sales KPIs and metrics to grow your revenue faster - Link
LB Harvey, VP of Sales at Intercom, which we use for the chat window at our website, shares their Sales KPIs they use to manage her team. She also shared some real-world examples of how they use them to grow their business.
The unusual steps banks and tech firms are taking to 'overpay' data scientists - Link
Recruiting good data scientists is hard, but what is really hard about is you are basically competing against Google, Amazon, and other big fat tech companies with tons of data, which attracts the data passionates, and money. So the traditional companies like banks are taking an unusual approach for recruiting - Not relying on HR.
Hiding America From Americans - Link
This is not directly related to Data / AI, but I can't stop thinking that propaganda is really the training data in the language of machine learning and we don't realize how much we are 'overfit' by such training data that have been fed to our mind until we see the real world data when we get out of our country. This is why traveling is good, which is a kind of like interacting with testing data! ;)
The Real Payoff From Artificial Intelligence Is Still a Decade Off - Link
There are the pessimists and the optimists about the progress in recent years with Internet, Mobile, Big Data, AI, etc. The author argues that GDP, which is a measure the pessimists use to claim that there is no productivity gain, is designed to capture the production of tangible goods, not intangible goods like software (including AI) and services. Therefore, it will take many years before we realize such progress.
And meanwhile, the software and the data products continue to eat the existing businesses.
What We Are Writing
We have written the following post recently!
What We Are Working On
Data Source Switch
Let's say you started your data analysis with CSV data and build a data wrangling pipeline along a bunch of charts. Then later, you want to query the data directly from a database rather than the downloaded CSV file. In 5.1, you will be able to switch the data source!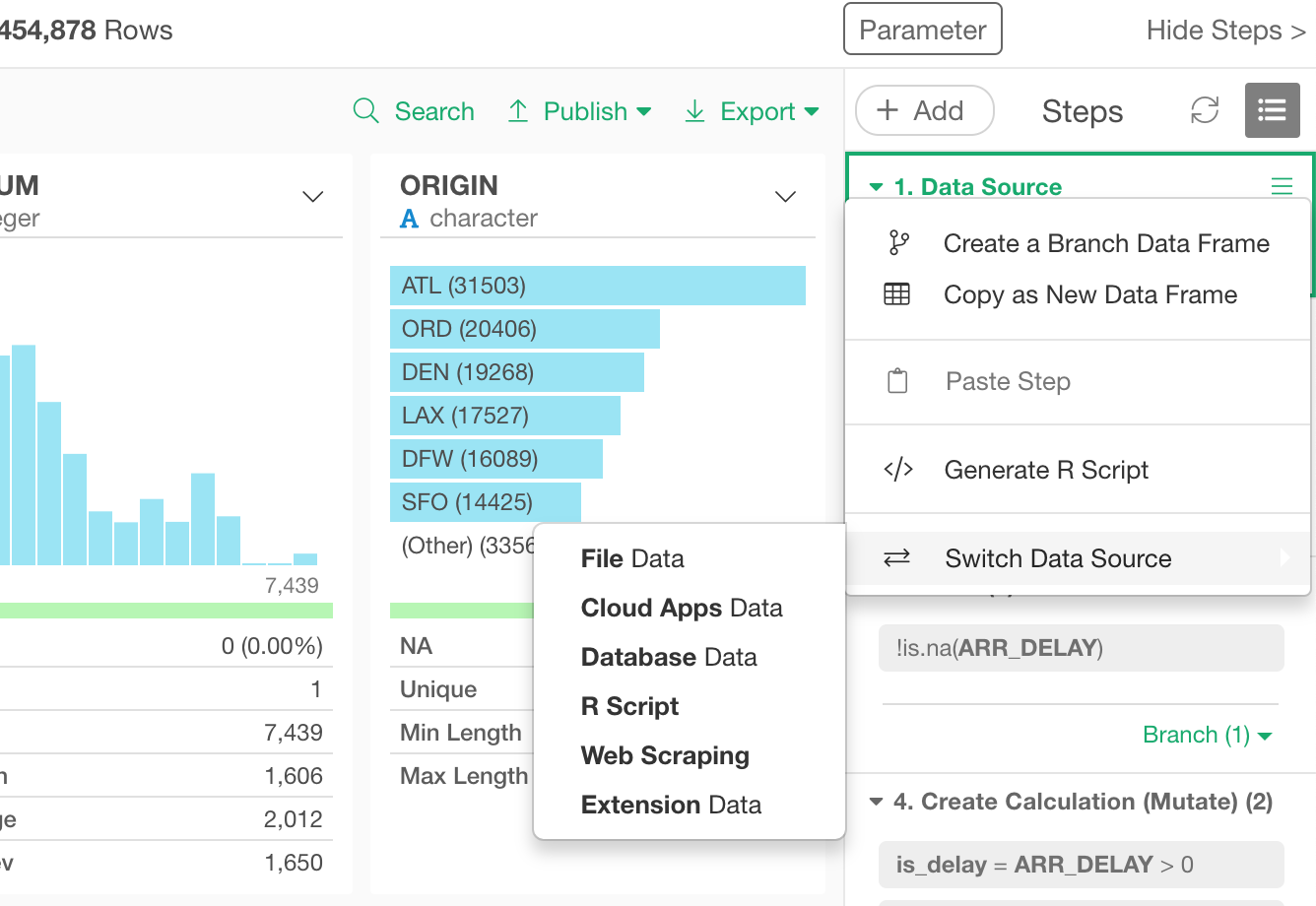 Branch Root Switch
Often, I have a situation where I want to change the branch root step. For example, when I add a new Mutate (Create Calculation) step in the main data frame I want to move the branch root step so that the branch data frame will include the Mutate step. Well, you will be able to do it in v5.1!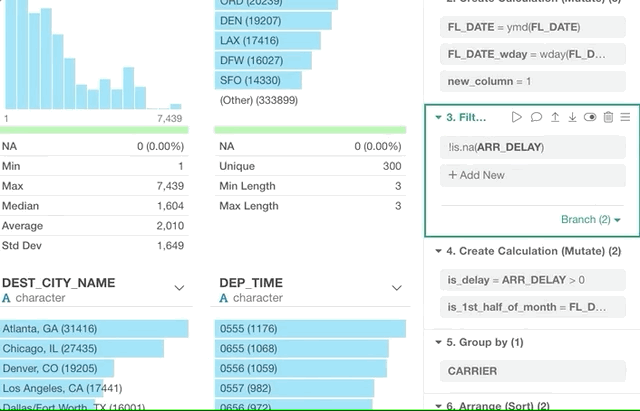 Exploratory Online Seminar
I'll be introducing Time Series Forecasting with Prophet algorithm at the next session, Nov. 26th Monday, 10 AM PT (US Pacific Time) / 1 PM ET (US Eastern Time).
Please join!
Data Science Booster Training
Our next online Data Science Booster training will be in February 2019! If you are interested in learning Data Science without programming, make sure to sign up soon! There are an early bird and a student discount!
Enroll February Booster Training!
If you are a current student, click here to get the student discount.
---
That's it for this week.
Have a wonderful week!
Kan CEO/Exploratory
---
This is a weekly email update of what I have seen in Data Science / AI and thought were interesting, plus what Team Exploratory is working on.